INNOVATIVE COOKING & ITS MOLECULAR AND DESTRUCTURED DECLENSIONS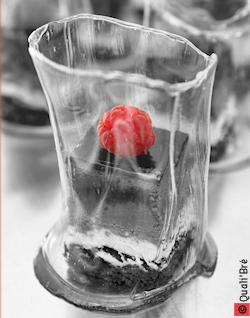 PAGE BEING UPDATED
Discover the famous, by Hervé This conceptualized Molecular Cooking, in all its forms !
These innovative Cooking Techniques, which are backed by 100% natural products, are more and more used to enhance the meals with a different practical, amazing and flavoring dimension.

Bolstered by its long-standing experience, QUALIBRE invites you to discover all the existing culinary techniques, or improve your skills on a particular item that is especially important for you and the optimization of your Productions.


QUALIBRE organizes every year several workshops on these special innovative themes, with old persons, small children or events orientation.
 The special innovative trainings are articulated around practical recipes and scientific comprehension that reveal trendy culinary horizons.
Our web shop Science & Gourmandise proposes discovery molecular boxes, including basic experiments for uninitiated involving you into a world of endless culinary creativity.