PROFESSIONAL CULINARY TRAININGS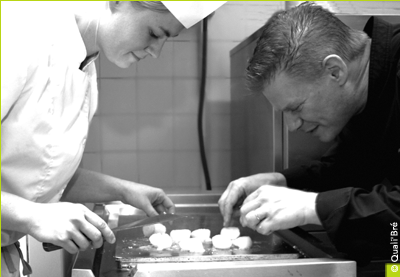 In an unique professional highly equipped kitchen of its kind in Europe, designed for Vacational Training, combined with a renamed food testing laboratory,
come and share your experiences and enrich your culinary creativity by participating to themed workshops, which are co-led by passionate duos with Cooking and Sciences. Various themes, innovating recipes, fun, passion, creativity, food security in a convivial atmosphere.
NOVELTIES 2014 :
 
 HANDEATING -FINGERFOOD for Seniors :
 A successfull Experiment against Undernutrition for a return to Alimentary Autonomy and Food Pleasure
 
 DESTRUCTURED COOKING :
 Modified Textures, Tastes and Pleasure of stranded, mixed or smooth Food
Next workshops at the Pedagogic Cooking Center in March 2014 :
CATERING DESSERTS & PASTRIES : The Universe of Three-Dimensional Sugar
         
(R)EVOLUTION OF VACCUM COOKING TECHNOLOGY :
Practices, Creativity and Innovations... It's in the bag !     
POSSIBILITY BUDGETING BY YOUR TRAINING FUND
 
Montplaisir Vocational Training Center, France - Champdeniers (dpt 79)